Lovely day for a barbeque
Welcome to the wonderful wasteland world of Fallout. Here you'll meet cryptids and critters, friends and foes, cowboys and greasers, synths and ghouls, cyborgs and mutants, and regular humans to round it all off. You won't meet them all at once, though. For that, you'd need the Fallout Greetings from the Wasteland Lithograph (Open Edition)—the answer to the question, "Wouldn't it be nice if everyone got along?"
Gather 'round. It's a lovely day for a barbeque.
FEATURES
Open Edition
No bleed
Material: 100# White Chorus Art Gloss Cover
Size: 36 x 24 in (91.4 x 61 cm)
Frame not included.
Due to differences between displays and the nature of the printing process (see above), your product may vary from the images shown.
Please Note: This lithograph is shipped rolled inside a tube, to reduce the chance for damage during shipping. See bottom of description for options to flatten your lithograph.
ALSO AVAILABLE
Fallout The Tops Casino Chip Collectible Coin
FLATTENING YOUR LITHOGRAPH
To flatten your lithograph, the following measures may be taken.
Option 1
Unroll your lithograph and lay it between 2 boards that are larger than the print. Make sure the boards are clean or sandwich your print between tissue paper. Place heavy items evenly across the top of the boards. Leave as long needed to flatten the print.
Option 2
You can lightly iron your lithograph on a flat and heat resistant surface. Set your iron to the lightest setting first. You must place either a pressing cloth or towel between the iron and the print. Otherwise, you will burn your print. It is advised that you have the print face down when ironing. Gently press your iron on the cloth and print, moving back and forth only on the cloth until the area is flat. Do this across the entire print. If you feel the iron is not hot enough gently increase the temperature until the desired effect is achieved.
Option 3
Take your print to a professional framing service and have them frame or mount it on a board.
The Bethesda Gear Store will not be held liable if you damage your print using the above methods. These are merely options to help you get the most out of your lithograph.
Related Links
Fallout Greetings From The Wasteland Lithograph - Open Edition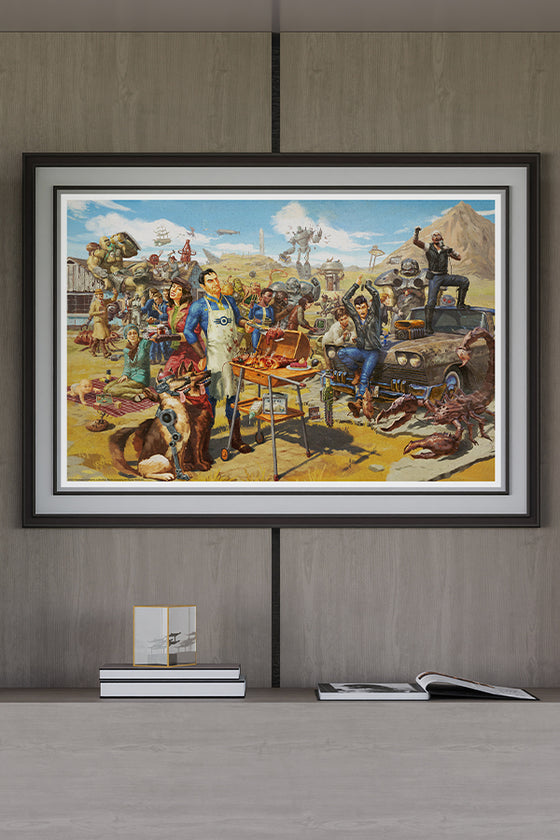 Fallout Greetings From The Wasteland Lithograph - Open Edition
Added to cart
Subtotal
Go to cart