LIMITED EDITION QUAKECON ROTATING QUAD DAMAGE STATUE AND QUAKECON 2022 PIN
Who doesn't need a little QUAD DAMAGE on their desk to help them get through a long day? The Limited Edition QuakeCon Rotating Quad Damage Statue features the power-up from original Quake, in "real life" 3D, spinning just like it did in the classic that started it all.
Set it down on your desk or shelf and give yourself four times the power at home or in your office whenever you want. It also comes with a QuakeCon 2022 Pin, because hell yes it does!
Order by June 13 11:59 PM (ET) to get yours in time for QuakeCon.
Get a free QuakeCon 2022 lanyard and badge with purchase of this item. Available until supplies last. Limited one per order.
INCLUDES
Rotating Quad Damage Statue
Limited Edition

Only 300 worldwide
Individually-numbered
Certificate of Authenticity included
QuakeCon's Quad Damage symbol on a rotating mount
Size: 5.15 x 4.17 x 7.75 in (13.1 x 10.6 x .7 cm)
Material: Plastic
Instruction manual included
QuakeCon 2022 Pin
Artwork of a computer tower with visible interior in black and white
QuakeCon's Q symbol in orange
Material: Soft Enamel & Zinc Alloy
Size: 5 x 1.2 in (3.81 x 3.05 cm)
Stud clasp
Due to differences between monitor displays, your product may vary from the images shown.
ABOUT QUAKECON
This year's QuakeCon will be a digital-only event, from August 18 through August 20, 2022.
Founded in 1996, QuakeCon has grown from a local gathering of Quake (and id Software) fans to one of the most distinguished festivals in gaming with a massive BYOC (Bring-Your-Own-Computer) LAN party. Welcoming more than 10,000 gamers to Dallas, TX, the annual event offers a wide range of activities, including presentations, tournaments, panels, exhibits, and sneak peeks of Bethesda's upcoming titles and announcements. QuakeCon has always been about great games and great friends, but it's also about providing attendees with opportunities to donate, support, and help others through partnerships with numerous charitable organizations.
We can't wait to see you online this August and in-person next year.
MORE QUAKECON 2022 GEAR
QuakeCon Rotating Quake and Pin
DOOM Eternal Mini Slayer QuakeCon Collectible Figure
DOOM Ultra Nightmare Skate Deck

MORE DETAILS
QuakeCon Merch
Related Links


Limited Edition QuakeCon Rotating Quad Damage Statue and QuakeCon 2022 Pin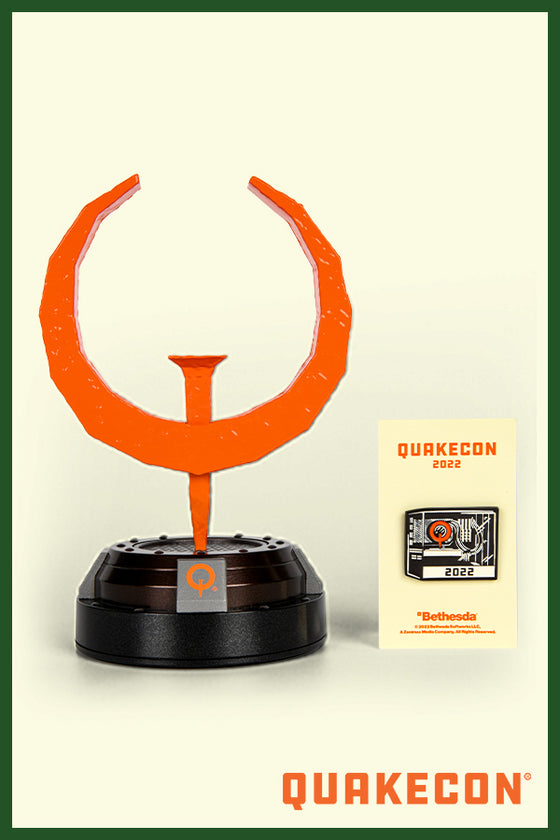 Limited Edition QuakeCon Rotating Quad Damage Statue and QuakeCon 2022 Pin
Added to cart
Subtotal
Go to cart