Defend the Empire or overthrow it with the Stormcloaks!
...or grab some mead and relive your memories of epic Daedric quests while listening to the sounds of the Ultimate Edition box set.
Some choices aren't so difficult after all.
Album: The Elder Scrolls V: Skyrim "Ultimate Edition Vinyl Box Set"
Artist: Jeremy Soule
Format: 4 LP Box Set
Package Specs: Four colored vinyl LPs in our exclusive "spatter pattern", board-stock slipcover, full-color quad-fold jacket featuring stunning artwork. Side "H" features a laser-etching of the classic Skyrim dragon logo. 
THE ELDER SCROLLS V: SKYRIM "ULTIMATE EDITION" VINYL BOX SET is a formidable volume, featuring four LPs containing the full 52 track original score by BAFTA award-winning composer Jeremy Soule (Morrowind, Oblivion, Guild Wars, Neverwinter Nights, Star Wars: Knights of the Old Republic). The deluxe package includes four colored vinyl LPs and a stunning, full-color quad-fold jacket featuring beautiful artwork and iconic imagery from the game, and is housed in a full-color heavy board-stock slipcase. Additionally, the first pressing includes an etching of the Skyrim dragon logo on the back side of the final disc (Side H).
Firmly established as a benchmark in video game role-playing genre the ELDER SCROLLS and the fifth iteration in the series Skyrim has cemented itself as one the most successful and enduring role-playing game titles of all time, being named #1 RPG Game of All Time by Game Informer in May of 2017. Elder Scrolls V: Skyrim received accolades from a plethora of gaming press, with IGN and Gamespot both naming it PC Game of the Year while Gamespot also awarded Skyrim its "Readers Choice" award. Additionally, Skyrim received the "RPG of the Year" award from Spike TV, IGN, GameSpot and GameSpy while receiving "Overall Game of the Year" nods from Spike TV, Giant Bomb, Machinima.com, GameSpot, Game Revolution, GameSpy, Joystiq, and the Interactive Achievement Awards.
Artist Bio: The Skyrim development team tapped muti-BAFTA award-winning composer Jeremy Soule, who previously worked on Morrowind and Oblivion, to compose the music for Skyrim. Soule is best known for his work in the Elder Scrolls and Guild Wars games and for providing the soundtrack for many successful CRPGs in the early 2000s. He pioneered the use of orchestral symphonies in strategy games with his Total Annihilation score. He also composed for many games in the Harry Potter series, which have earned him multiple BAFTA nominations and a win.
Track Listing:
Side A
Dragonborn (3:56)
Awake (1:30)
From Past to Present (5:03)
Unbroken Road (6:21)
Ancient Stones (4:42)
The City Gates (3:45)
Silent Footsteps (2:50)
Side B
Dragonsreach (2:19)
Tooth and Claw (1:47)
Under and Ancient Sun (3:35)
Death or Sovngarde (2:57)
Masser (6:04)
Distant Horizons (3:50)
Dawn (3:56)
The Jerall Mountains (3:15)
Side C
Steel on Steel (1:41)
Secunda (2:03)
Imperial Throne (2:15)
Frostfall (3:22)
Night without Stars (0:41)
Into Darkness (2:50)
Kyne's Peace (3:47)
Unbound (1:32)
Far Horizons (5:28)
Side D
A Winter's Tale (3:19)
The Bannered Mare (2:25)
The Streets of Whiterun (4:01)
One They Fear (3:08)
The White River (3:28)
Silence Unbroken (2:20)
Standing Stones (6:37)
Side E
Beneath the Ice (4:12)
Tundra (3:46)
Journey's End (4:07)
Before the Storm (1:03)
A Chance Meeting (3:10)
Out of the Cold (3:01)
Around the Fire (3:09)
Shadows and Echoes (2:18)
Side F
Caught off Guard (1:10)
Aurora (7:18)
Blood and Steel (2:09)
Towers and Shadows (2:21)
Seven Thousand Steps (1:05)
Solitude (2:10)
Watch the Skies (2:16)
The Gathering Storm (2:53)
Sky Above, Voice Within
Side G
Death in the Darkness (2:36)
Shattered Shields (2:38)
Sovngarde (3:33)
Wind Guide You (9:02)
Side H
BLANK/ETCHED
The Elder Scrolls V: Skyrim Ultimate Edition Vinyl Record Box Set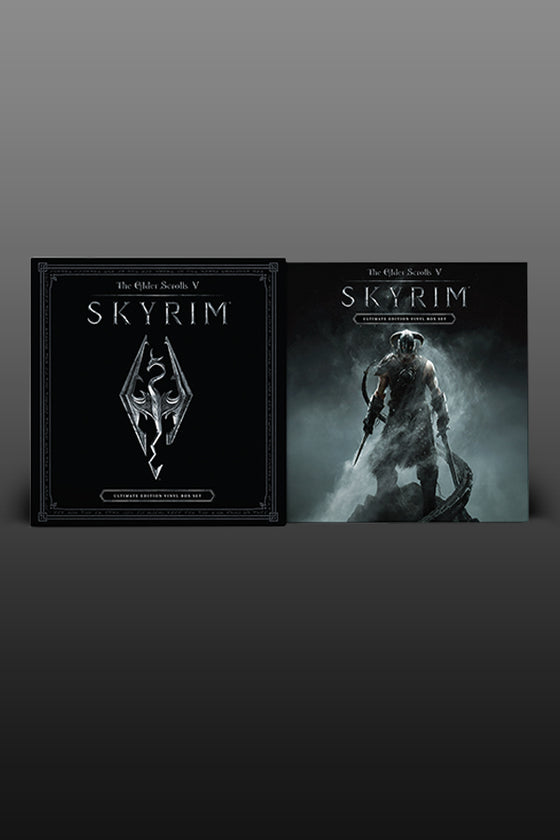 The Elder Scrolls V: Skyrim Ultimate Edition Vinyl Record Box Set
Added to cart
Subtotal
Go to cart