Only 1993 Worldwide
The year is 1993. The diskettes you've been waiting for just arrived in the mail. You boot up your computer and type in a series of commands. Minutes later, metal music fills the room. A rush of adrenaline gets your blood pumping. You start the game and then… all hell breaks loose.
Now, 30 years on, DOOM fans are still slaying demons and having a blast. Celebrate the game's legacy with the DOOM 30th Anniversary Limited Edition Commemorative Floppy Disk.
Created by the dedicated video game nerds at Fanattik, this commemorative item is a love letter to the time when DOOM was new and floppy disks were high-tech. It's a special collectible for all who appreciate the good ol' days of razing hell—whether you remember them or not! 
FEATURES
In honor of Classic DOOM's origins
1x Embossed floppy disk replica
Only 1993 worldwide
Individually-numbered
Size: 3.5 x 3.5 x 0.8 in (89 x 89 x 3 mm)
Materials
Zinc Alloy
Antique Copper Plating
Includes display stand
Comes in a presentation box
Related Links
DOOM 30th Anniversary Limited Edition Commemorative Floppy Disk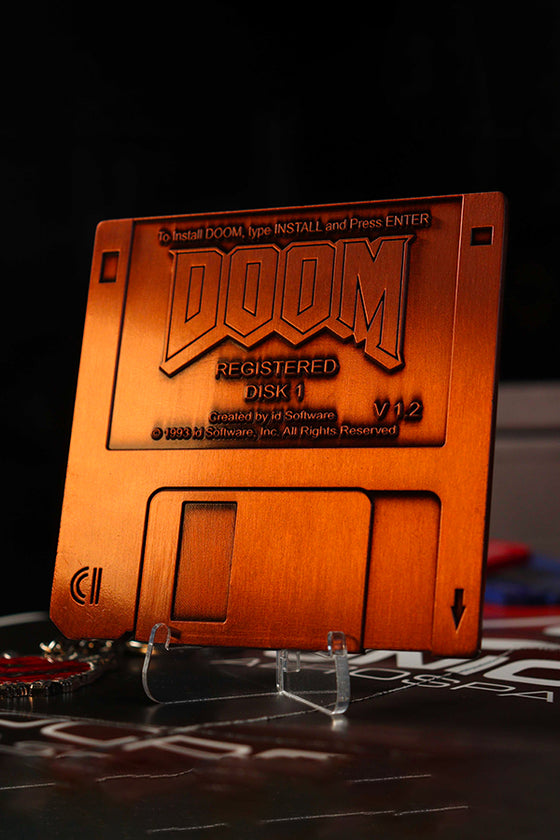 DOOM 30th Anniversary Limited Edition Commemorative Floppy Disk
Added to cart
Subtotal
Go to cart