FEATURES
Codsworth Edition of the Fallout Mister Handy Deluxe Articulated Figure

Hand-painted rust effects
Sound playback of 18 Mister Handy voice lines from the game
40 points of articulation
Sound-activated motorized head rotation
Illuminated exhaust flame
Working apertures on eyes 
Built in rechargeable battery
Images shown are representative only and final product may vary.
This is not a toy. Not suitable for children under 14 years of age.
IMPORTANT: Please do not remove the heat shrink sleeve from the support arm joint. It gives the support arm joint added stability so you can adjust the support arm at more angles. Removing the sleeve may make the support arm less stable.
ALSO AVAILABLE
Fallout Mister Handy Deluxe Articulated Figure
LIMITED PRODUCTION OF ONLY 500 WORLDWIDE
NOTE: This is a repaint of the existing Mister Handy with Mister Handy voice lines.
Behind the rust on Codsworth's body is a story of a lonely robot who kept the Sole Survivor's home nice and pretty for over 200 years. It's time to pluck him out of Sanctuary Hills! Give the Fallout Mister Handy (Codsworth Edition) Deluxe Articulated Figure a new home in your collection. Though he's retired from housework, he still has lots to offer:
He can pose. With 40 points of articulation, Codsworth can really stretch, bend and turn.
He can speak. Codsworth can sense sound, and will respond with one of 18 Mister Handy lines from the game.
His "exhaust flame" glows. It's an LED light. Sorry you can't use it for barbeque.
He can take a real good look around. Some sounds will make him turn his motorized head around, and you can manually adjust the apertures in his eyes.
This paint variant of Gaming Heads' Mister Handy is limited to only 500 units. It comes in a full color box, internal Styrofoam packaging and a validation card.
MORE DETAILS
Fallout Video Game Merch
Collectibles: Articulated Figure
Related Links
Fallout Mister Handy Codsworth Edition Deluxe Articulated Figure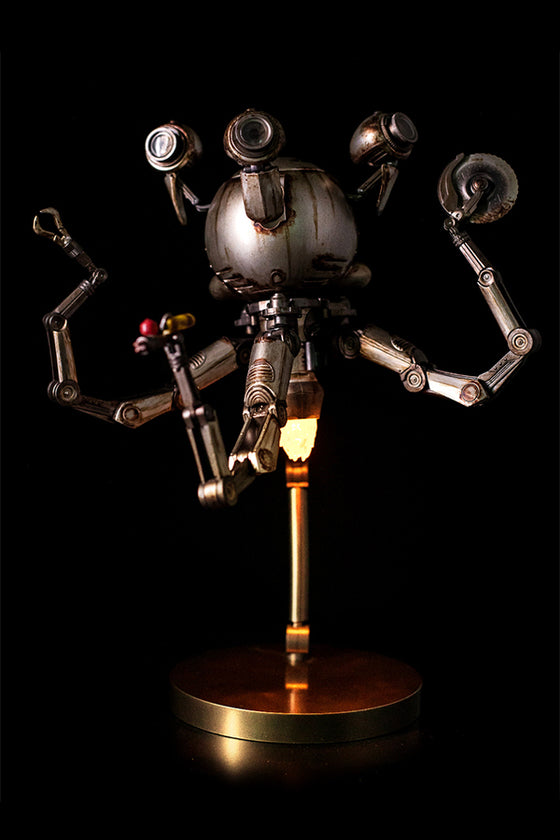 Fallout Mister Handy Codsworth Edition Deluxe Articulated Figure
Added to cart
Subtotal
Go to cart